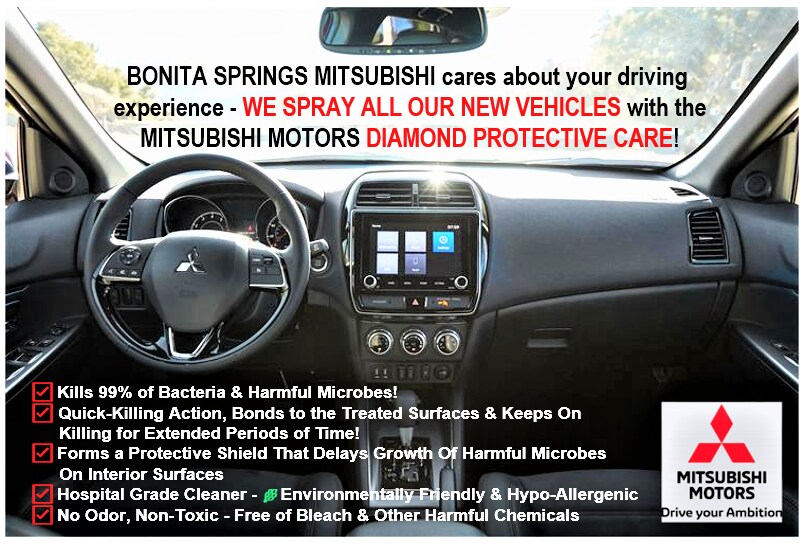 Buy Or Lease New Mitsubishi Models Near Bonita Springs, FL
Bonita Springs is your top destination for the newest Mitsubishi models at competitive prices. Bonita Springs Mitsubishi is proud to be Cape Coral, Naples and Lehigh Acres most trusted Mitsubishi dealer, and we're here to help you easily and quickly buy or lease the most ideal new Mitsubishi sedan or SUV for your budget, driving style and needs.
Customers Come First at Bonita Springs Mitsubishi
Nothing comes above customer satisfaction at Bonita Springs Mitsubishi. When drivers from Cape Coral, Naples and beyond visit us for their next new Mitsubishi model, we aim to offer the most preferable incentives to buy or lease in the area. Our first priority is to satisfy our customers and ensure that their needs are met - across the board. We work hard to offer a pleasant, positive and customer-first dealership environment. We don't believe in gimmicks, cheesy sales pitches or pushing our customers just so we can make a sale. Our mission is to deliver a fully enjoyable and engaging dealership experience that allows our guests to shop our new Mitsubishi lineup at their own pace. Helping you successfully buy or lease the right new Mitsubishi car or SUV is what we're dedicated to at Bonita Springs Mitsubishi. Every customer who wants to buy or lease a new Mitsubishi model near Bonita Springs can put their trust in our approachable, knowledgeable and enthusiastic team.
Shop Our New Mitsubishi Lineup
Drivers from Lehigh Acres, Cape Coral and surrounding areas can browse our new Mitsubishi lineup either online or in greater detail at our Bonita Springs dealership. Each new Mitsubishi model on our showroom floor delivers a unique performance and array of features. From new Mitsubishi sports cars to spacious and capable SUVs, our guests will find it all at Bonita Springs Mitsubishi.
Visiting us will reveal great incentives to buy or lease a new Mitsubishi. We offer both lease specials as well as new vehicle specials, which are a great way to keep a considerable amount of cash in your pocket. Some top models Bonita Springs area customers can take a closer look at include the Mitsubishi Mirage G4, the Mitsubishi Mirage, the Mitsubishi Eclipse Cross, the Mitsubishi Outlander, and the Mitsubishi Outlander Sport.
Bonita Springs Mitsubishi's newest Mitsubishi lineup is packed with models that include desirable performance technology, entertainment options, safety features, and conveniences. Depending on the model and trim level you choose, amenities like all-wheel drive, touchscreen infotainment systems, Wi-Fi access, USB ports, power sunroofs, rain-sensing wiper blades, audio systems, Apple CarPlay, blind-spot monitoring, lane-keep assist and more will be at your fingertips.
Shop Bonita Springs Mitsubishi's impressive and competitively-priced new Mitsubishi lineup today for great ways to save on your next Mitsubishi car or SUV. The Bonita Springs Mitsubishi team is available to guide you to the perfect new Mitsubishi model for your taste, needs and budget whenever you're ready to buy or lease. Visit Bonita Springs Mitsubishi, Bonita Springs FL 34134 at your earliest convenience and a team member will show you around, answer your questions and get you moving for a test drive right away.